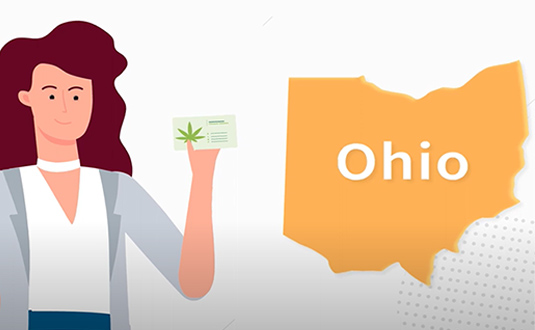 Category: Medical Marijuana in Ohio
If you're an out-of-state student in Ohio considering getting a medical marijuana card, you may have questions about the process and how to prove your residency. Obtaining an Ohio medical marijuana card can be a valuable resource for those seeking alternative treatment for various medical conditions. In the United States, each state has its own laws and regulations regarding the use of medical marijuana, including requirements for getting a medical cannabis card. If you are an out-of-state student in Ohio looking to obtain a medical marijuana card, there are a few things you should know.
Can I Get a Medical Marijuana Card as an Out-of-State Student?
It's important to note that the process for acquiring a medical marijuana card varies from state to state. Some states have more lenient laws and allow out-of-state residents to get medical marijuana cards, while others have stricter rules and may only issue cards to in-state residents. Therefore, the first step in getting a medical card as an out-of-state student is to check the Ohio Medical Marijuana Control Program rules. 
One of the main requirements for obtaining a medical marijuana card is proof of residency. In Ohio, you will need to provide documentation such as a driver's license, utility bill, or rental agreement to prove that you are a state resident. As an out-of-state student, you may not have these types of documents. However, there are a few ways you can prove your residency in Ohio:
Proof of enrollment:

Many states will accept enrollment in a local college or university as proof of residency. This may be a good option if you plan to attend school in Ohio for an extended period of time.

Lease a residence:

If you live in a rented apartment or house in the state, you can provide a copy of your lease agreement as proof of residency.

Obtain a state identification card:

The state of Ohio may allow you to obtain a state identification card, which can serve as proof of residency.
Once you've gathered all the necessary documentation, you'll need to visit a licensed medical marijuana doctor or dispensary to obtain a recommendation for a medical cannabis card. This typically involves a consultation with a healthcare professional. During your consultation, you'll discuss your medical history and any symptoms or conditions that you believe may be helped by medical marijuana. If the healthcare professional determines you could benefit from medical marijuana, they will provide you with a recommendation.
After you have your recommendation, the next step is to submit an application through Ohio's medical marijuana program. It may take anywhere from a few days to several weeks for your application to be approved. Once your application is approved, you'll receive a medical marijuana card that allows you to purchase and use medical marijuana products in Ohio.
The Benefits of a Medical Marijuana Card
Medical marijuana is a form of treatment that involves the use of cannabis, which is a plant that contains compounds called cannabinoids. These compounds can have various effects on the body, including pain relief and relaxation. Some people use medical marijuana to manage conditions such as chronic pain, epilepsy, multiple sclerosis, Crohn's disease, and other conditions that cause chronic discomfort or impairment.
There are several potential benefits of obtaining a medical card, particularly for Ohio college students. These benefits include:
Legality
In Ohio, it is legal for individuals with a medical marijuana card to use and possess marijuana for medicinal purposes. This can provide peace of mind for college students who may be concerned about being caught with marijuana, which is still illegal in many states, including Ohio. 
Access
A medical marijuana card allows individuals to access medical marijuana from licensed marijuana dispensaries in Ohio. These dispensaries often have a wider selection of strains and products, as well as staff who are trained to help customers choose the most appropriate product for their needs.
Additionally, medical marijuana is often prescribed in specific doses, which may help college students manage their symptoms more effectively. This can be especially important for conditions that require precise dosing, such as epilepsy.
In some cases, medical marijuana is covered by insurance or available at a reduced cost for individuals with a medical cannabis card. This can be especially beneficial for college students on a tight budget.
Get Your Medical Marijuana Card at TruReleaf MD
Are you tired of living with chronic pain or other medical conditions that traditional treatments can't seem to alleviate? Medical marijuana may be the solution you've been looking for. If you are an Ohio resident interested in trying medical marijuana, TruReleaf MD is here to help you every step of the way.
Our team of compassionate and knowledgeable medical professionals will help determine if medical marijuana is right for you and will guide you through obtaining your Ohio medical card. With your card, you'll have access to a variety of medical marijuana products that may help relieve your symptoms and improve your quality of life. Take control of your health and schedule an appointment with an Ohio medical marijuana doctor at TruReleaf MD today. Together, we can find the relief you deserve.